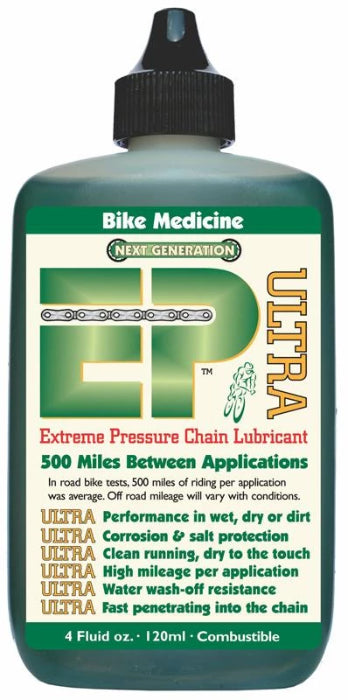 $24.95
EP Ultra Synthetic Chain Lubricant
EP ULTRA - The next generation, ultra high mileage, extreme pressure chain lubricant with maximum film strength!
High mileage per application – most cyclists experience 500+ miles of road riding between applications of EP ULTRA. Offroad riders will enjoy a super clean drivetrain regardless of conditions.

Runs Clean – Doesn't Attract Dirt

Designed to run chains in marine conditions and other extreme environments.

All conditions lubrication security – protects from wear and chain binding up from +300° f. and down to -100° f.

Smooth Running - Reduces Drivetrain Noise

Does not harden in cold conditions. Runs free in arctic environments.

Environmentally targeted solvent and extreme pressure additive. Very low toxicity.

Use 1/4 ounce per application for most road or mountain bikes.

EP ULTRA is extraordinary as a nipple lubricant for wheel building. No more oil leeching out after the wheels are finished.